10 color suit color paint pen(Buy 1 Get 1 FREE)
---
Safe and non-toxic, odorless, water-based,
waterproof and UV resistant

36 most important and beautiful colors
We promise:Our products are the same as our video shows.
If not, we will refund you.
10 COLORS: blue, silver, gold, green,
black, red, yellow, white, light green, bronze
36 Color CARDS:
Dries really fast and does not smudge
Fine tips of about 2-3 mm
· Very accurate and permanent on any surface,
highly pigmented Japanese ink
· Works really on any surface, indoor or outdoor
· You can use them for anything from rock painting
over body painting to glass painting
The glitter is biodegradable. Our
eco glitter is made from a biodegradable
cellulose film. This means that once
it's in the natural environment, microbes
consume it, causing no harm to Mother Earth.
·Non-Toxic & Safe - Our paint markers are water-based,
non-toxic, without strong smell, safe and kid-friendly.
(We suggest children under 3-years old should be used
under the supervision of an adult)
·RICH VARIETY COLORS - 36 Vibrant Colors
·ACCURATE AND PERMANENT - Highly pigmented, solvent-free
Japanese acrylic paint ink. Fast-drying, opaque, permanent
on most surfaces, fit for indoor and outdoor use.
·WIDELY USAGE, ANY SURFACE - Works on almost every surface.
Clothes, Rock Markers, Ceramic, Shoes, Glas, Mirrors, Windows,
Plastic, Fabric, Wood, Canvas, Paper, Chalkboards, Metal, Body,
Cars, etc.
·Great Gift Idea - We believe these rock paint pens will be a
fantastic present for your sister, brother, daughter, granddaughter,
son, kids, wife or for those painted rock lover for Christmas,
·Birthday, Mother's Day, Easter Day, Valentine's Day, Thanksgiving
Day, Party, New Year's gift, etc. This super & thoughtful rock painting
kit will make a perfect & useful gift.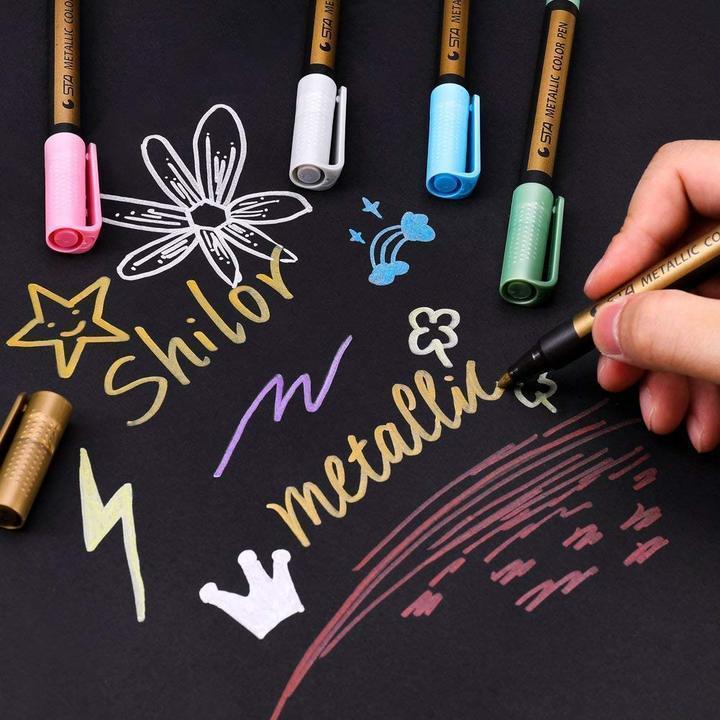 Here are some tips for baking the project on glass,
ceramic or porcelain:
1.Make sure that the surface is thoroughly cleaned,
use rubbing alcohol. Don't forget to remove all price
stickers, otherwise, it will burn when you bake;
2.Once you are happy with your design let it air dry
for 24 hours before baking. This will ensure proper
adhesion of the design on the surface;
3.After fully dry, place your project into a cold oven;
4.Turn oven to 350˚F;
5.Set a timer for 1 hour;
6.Once the hour is up, turn off the oven;
7.Open the oven;
8.Let the project cool down completely. It is better
to wait a day.
Hand-washing in warm water is the best option to wash
the surface. We do not recommend using a dishwasher or
pheavy-duty sponge. Remember, there is always a chance to
scratch the paint, be extra careful with the project!